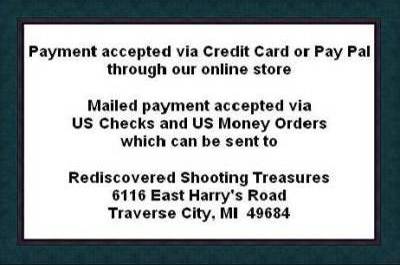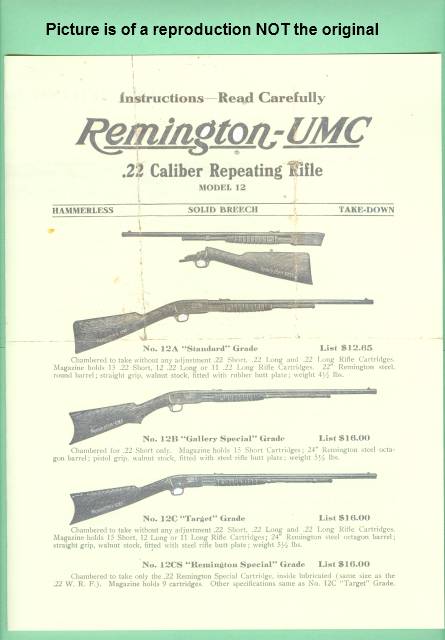 Remington Model 12 EARLY factory instruction manual reproduction. Printed from high resolution scans of an original. Printed at the correct size in full color capturing the aged look of an original. Two sided folded sheet with pictures and text covering the specifications of the 12A, 12B, 12C and 12CS, 12D, 12E and 12F. Covers Assembly of basic components, disassembly of same, loading, Dismounting the parts attached to the receiver, reassembly of same, Dismounting the parts attached to the Guard and a cut away view of the rifle. This is the manual that came from the factory with your firearm when new. I also have a later vintage of the Model 12 factory manual listed separately. Great information and a nice display item.
Item # 0474 - $6.95 plus shipping.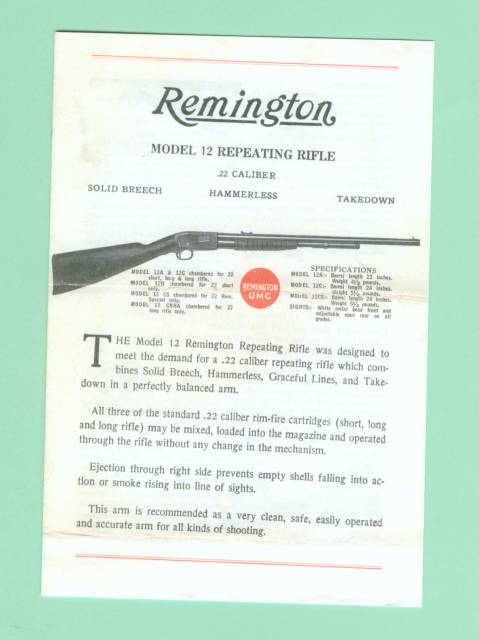 Remington Model 12 Later manual reproduction. Created with high quality scans of original. Consists of 8 pages of information covering assembly, disassembly, loading, cut away action pictures, care, sight adjustment, a parts list and parts diagram. Staple bound. Great information or just a nice addition to your rifle.
Item # 0475 - $7.95 plus shipping.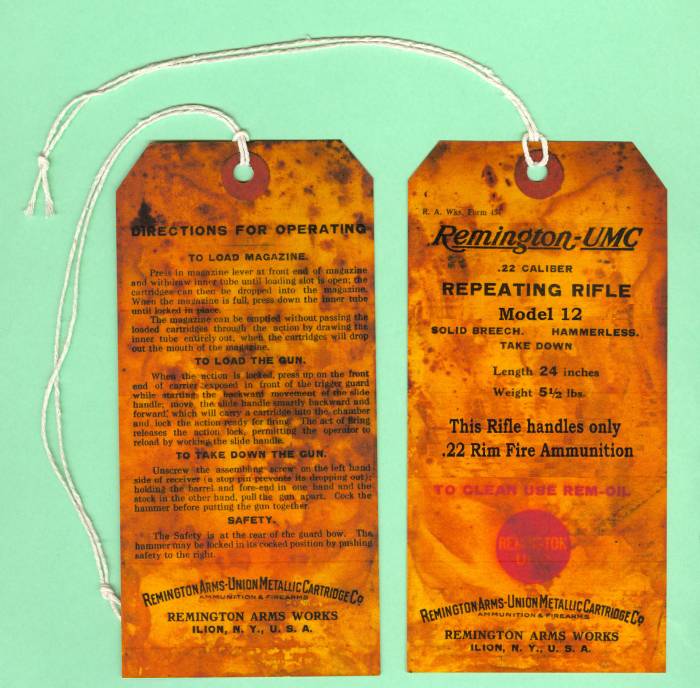 Remington 12 Short, Long and Long Rifle Hang Tag Version
Remington Model 12 hang tag reproduction. Made with high resolution scans of an original and printed in full color on heavy stock in full color. Reproduced with the same aged look of the original for enhanced display quality. The front describes the rifle and the back has basic instructions for loading, take down of the rifle and safety. Neat item for your rifle and good information. Please note that this item reflects the considerable aging of the original, it will be hard to read the text in some of the darker areas. This item is offered primarily for display value.
Item # 0476 - $3.75 plus shipping.